Mitsubishi
Working alongside a Design Team, we have been appointed to supply + fit all of the Office and Meeting Room Furniture for a subsidiary at Mitsubishi Corp – 20+ Positions + Executive and Boardroom Suites …

Furniture Installation of over 300 positions over 2 floors Supply of new desks, chairs, Desk Mounted screens and Storage.

Design & Supply of Bespoke High End Boardroom Room Furniture Remedial Decoration works Supply + Fit of Kitchens + Tea Points, Internal Moves.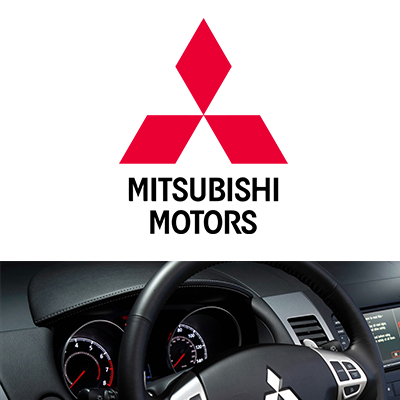 Main Office Area
The brief from the client was to reduce the amount of desk space per operative, but ensuring that they had enough workspace to carry out their daily tasks. With clean crisp lines, the final layout was designed to ensure that teams were able to work in an open plan office, but still be able to work in a collaborative manner by using small breakout areas provided.

Using a 160cm x 80cm footprint, the desks provided enabled all cables to be feed from floor pans and be held in cable trays, suspended from under frame of the desk. this ensured that no wires trailed across the open plan area.

Using desk mounted screens with integral tool bars, letter trays and monitors were suspended from the screen, to enable the operative to have more free desk space.

With matching storage options, both centrally and desk end, various types of files- suspension and lever arch were able to be stored efficiently.

It was crucial that the seating provided ensured, that all operatives were able to fully adjust the chair to fit their body shape and form.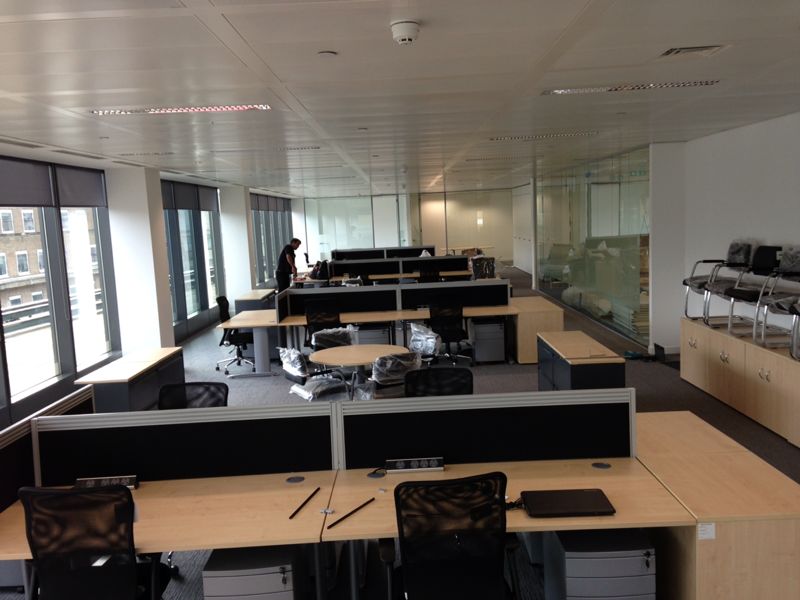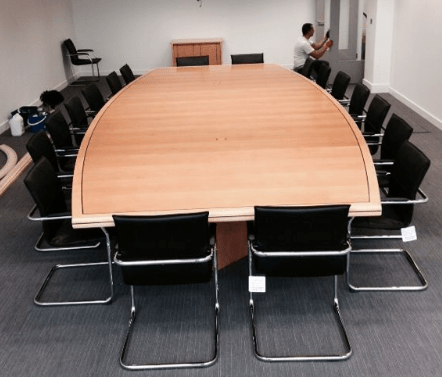 Board Rooms
Using High End, Designer Ranges of Wood Veneer Boardroom Tables and Credenza's, the meeting rooms were created to not only give a prestigious finish, but also highly functional.

The tables were designed with full cable management facility, including Audio & Visual data connections The chairs provided were to match the 200 plus already provided through all of the other meeting rooms, located over 4 floors.
Cafe – Breakout Area
The colours and finishes of the café style furniture provided, complement the existing high gloss black kitchen units beautifully.

The tables, being a high gloss finish, can be wiped clean with minimum effort. The chairs provided are comfy, but extremely hard wearing, both ideal for Breakout / Café Area.