OUR History
About Us
Docklands Office Furniture is now a recognised brand name in London, synonymous with new and used office furniture, having been in Hackney Road in London's East End for over two decades. We have a large showroom at 472 Hackney Road, displaying a good selection of new and used office furniture, which is constantly refreshed. Aside from selling furniture we also offer a full refurbishment service for businesses in London and the surrounding areas.

Docklands Office Furniture (DOF) was established in 1988 with a view of supplying the local community with quality yet affordable second hand office furniture. Over the following years the company progressed to supplying wide varieties of new office furniture, along with office removals and the hire of furniture. Primarily situated in the East End of London, DOF's pledge of professional, efficient and relatively inexpensive service has ensured the company's presence within the Office Furniture Industry reaches not only to the Boroughs of London, but nationwide. Through years of hard work and constant fine tuning, DOF has emerged as one of the most prestigious companies in the field.

Boasting a highly-skilled workforce with a fleet of heavy-goods vehicles to match, DOF caters to the customers' every need, whether it be a delivery of one second hand chair to a home office or the total removal of furniture from an entire office block. The Company strives for excellence, doing everything possible to ensure each client has a positive experience. Through this effort, DOF has guaranteed the custom of numerous long term clients, and hopes to continue this ethos for the foreseeable future.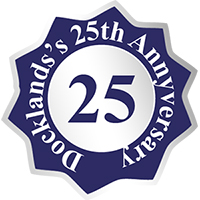 Our Mission

To be able to meet our clients needs, providing high quality New and Used goods at affordable prices. A first class delivery service guaranteed to be with out clients within 48 hours from purchase, using our own highly trained delivery and installation team.

Being the number one leader of recycling furniture in the South East, Docklands Recycled Furniture are extremely conscious of the impact that each and every one of us has on our environment. It is our intention to develop our Recycling Policy by reducing the amount of wast we produce.


Our Clients

To the right is a selection of the clients Docklands are proud to have supplied, worked with and built a professional working relationship with throughout our 25 years in the industry.

Our Aim

We promise to always meet our clients needs whilst ensuring that our service level is second to none.

Our Values

Service and reliability, honesty and integrity.